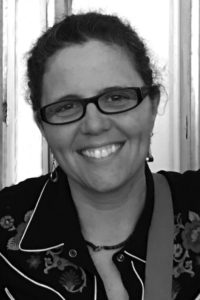 Traci Molloy is a Brooklyn, NY, based artist, collaborator, and education activist. She's presented her artwork in over 175 national exhibitions, including solo shows in New York, Chicago, Kansas City, Nashville, and participation in the Atlanta Biennial.
Molloy has participated in residencies at the Lower Eastside Printshop (NY), the Newark Museum (NJ), the Center for Contemporary Printmaking (CT), Institute for Electronic Arts (NY), University of Southern Maine (ME), Bucknell University (PA), and the Obermann Center for Advanced Studies (IA).
She has received grant funding from the Puffin Foundation and the Ohio Arts Council, and was an On Our Radar semifinalist for the Creative Capital Grant.
Molloy's multi-media collaborations with adolescents have been exhibited at the United Nations, Pentagon, Bronx Museum of the Arts, Global Health Odyssey Museum at the CDC, the International Summit on Racism in Johannesburg, Children's Museum in Tokyo, and the Norman Rockwell Museum. They are the subjects of two books, Empowering Children through Art and Expression and Where Can I Get a Phoenix.
Her collaborations have been featured on Good Morning America, NPR, and news stations in New York, Boston, Atlanta, and Washington D.C. The National September 11th Memorial and Museum owns five of her collaborations.
Molloy has directed arts-based educational outreach programs in Appalachia, Atlanta, and the Bronx. She lectures regularly at colleges, universities, and conferences about her work.